PeopleHR Facial Recognition using the FaceDeep 5 IRT
Seamlessly connect your Anviz FaceDeep 5 IRT terminal to PeopleHR
Verifying over one million faces worldwide, the Anviz FaceDeep 5 IRT is top of the range and has become one of the most accurate facial recognition terminals out there. Equipped with new AI-based facial recognition and temperature screening, this terminal helps businesses stay secure and safe by preventing possible spread of viruses. The accuracy of the facial and thermal authentication isn't affected by makeup, hairstyles, facial hair, glasses, head wear or face masks, and it can authenticate users at a distance of up to 100m using its new facial template learning.
This superior facial recognition terminal can be used with PeopleHR to offer fast & effective biometric time & attendance integration with optional RFID (or Mifare). Ideal for any small, medium or large business, supporting up to 50,000 facial & card templates.
To arrange a demo where we can demonstrate how the system works live, please get in touch.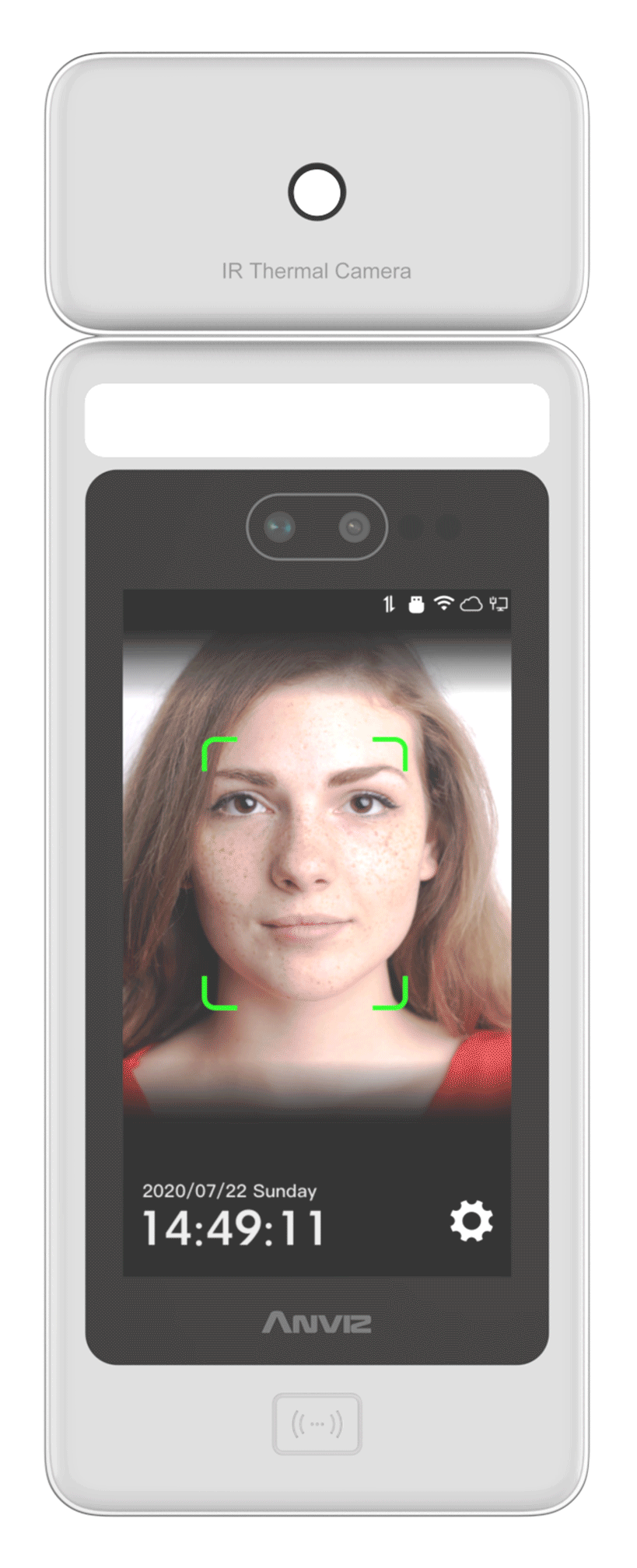 Recording Attendance for PeopleHR
Once an employee is registered to the FaceDeep 5 IRT, they simply need to approach the device and position their face within the centre of the screen. The FaceDeep 5 IRT will signify that it has recorded a successful clock visually on screen and by sound, taking less than a second to also verify appropriate body temperature.
Syncing Attendance Data to PeopleHR
With holidays, remote working days, and normal office hours already setup within PeopleHR, staff clock in & out records collected by the Anviz FaceDeep 5 IRT seamlessly fills the timesheets of a standard employee shift. Updated on an automatic 30 minutes cycle and accessible on the PeopleHR cloud management dashboard.
Viewing the Attendance Data in PeopleHR
Employee clock in & out records display as green calendar icons. Click these to view the recorded clock times of that specific day. This image shows each individual clock time recorded by the FaceDeep 5 IRT by our example employee. Starting work at 08:47am, lunch from 12:32pm -13:27pm, and ending shift at 17:34pm.
Network Requirements:
All locations to have a fixed external IP address – or use a DDNS service that provides a static host name which acts as a fixed IP address
The FaceDeep 5 IRT terminal/s need a fixed internal IP address applied
Comfortable with router port forwarding (port map) and open ports of the FaceDeep 5 IRT terminal/s to allow external access by PeopleHR's API to pull attendance data
Device Requirements:
All FaceDeep 5 IRT terminal/s to have 3 pin UK power socket within close proximity of the installation location
Supply a secure network cable or reliable WiFi for the FaceDeep 5 IRT terminal/s
Determine and input the networks subnet mask, gateway & device port details into the FaceDeep 5 IRT terminal/s. If only one terminal is required, the port can remain default
If you are looking for a biometric device to sync with PeopleHR, but can not reach the requirements stated above, please contact us.
Optional Add-On: Remote Setup Support
It is highly recommended that you purchase support along with your attendance hardware. This is to ensure a smooth and efficient setup to save time & resource. We have an expert team at Idency with years of experience in attendance hardware and software. For help with initial setup (up to 2hrs) then please refer to our Time & Attendance Support Package.
Alternatively, please get in touch to arrange a tailored Support Service Level Agreement (SLA).
Optional Add-On: Evacuation Reporting (Emergency Roll Call)
If you need an evacuation report as part of your fire & safety policy then the cloud-based Go2Clock Evacuation Reporting Service is an ideal add-on to your Time & Attendance. Monitor employees on-site across multiple locations remotely in real-time, and generate on-demand reports sorted by ID, name, time, department, location etc.
Please get in touch to arrange a live demo or free trial.
For more information on the Anviz FaceDeep 5 IRT and compatible software please contact us.
Get in touch