BlackBerry Workspaces – Highly Secure File Management Platform
Embedded Digital Rights Management for multi-OS synchronisation and sharing
BlackBerry® Workspaces lets you collaborate securely, with all the features you expect from an advanced enterprise file share and mobility solution.
Create collaborative workspaces, share files inside and outside your organisation, access your files from any device and ensure that the latest version of your file is always synced and available across all your devices.
What makes Workspaces different from competitive solutions is its file-level security. It offers 256-bit file encryption and access controls to ensure that only authorised users can access your files—even after they leave your network. Workspaces also embeds Digital Rights Management (DRM) protection into files, which means that you can control whether users are able to save, edit, copy or print the files.
---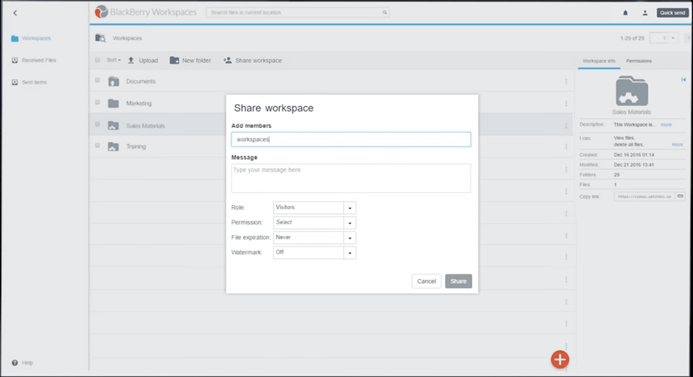 ---
Control
Allows restriction on who can view, print, edit, or forward documents.
Quick send
Securely share documents through Outlook or through a web-based GUI.
File Sync
Real-time document updates accessed through Workspaces end-user interfaces.
File locking
Allows teams to prevent duplication of effort by temporally limiting access to a document while it's being edited.
Remote management of file access
Admins can control or change access to documents at any time — even after downloaded.
Device optimised access
Render docs in high fidelity with platform-neutral controls for doc access on PCs, mobile devices, or web browser.
Workspace
A site can be created to allow for document collaboration. New workspaces can be created on external repositories.
Connectors
Integrates via APIs with enterprise systems, such as Exchange, SharePoint, SharePoint Online, One Drive, etc and proprietary applications.
Tracking
Visibility of who views, downloads, forwards, edits, updates or prints company documents with a full audit trail
---
Secure document collaboration from anywhere on any device
BlackBerry Workspaces users can easily access, edit, share and control even the most sensitive files from any mobile or desktop device without sacrificing document security. With easy iOS, BlackBerry and Android file sharing, users can stay productive anywhere they travel. Content is synchronised so teams can view documents, transfer data and collaborate on files with confidence, knowing they always have the latest version.

Part of BlackBerry Secure, a comprehensive endpoint-to-endpoint approach to security, only BlackBerry Workspaces can provide the level of security organisations need—wherever files are, wherever they need to go, and whoever needs access to them.
Workspaces empowers users with easy-to-use DRM controls, so they can always be in control of their content, even after it has been shared and external collaborators have downloaded it.
Intuitive permission menus are presented to the user when sharing files. This allows them to quickly establish permissions by user or user group. BlackBerry Workspaces integrates protection into critical business apps and solutions and all deployment solutions enable a single and secure view of all enterprise content from any device.
You can find more information on BlackBerry Workspaces please visit the media tab.
---
For pricing and more information on Blackberry Workspaces please contact us.
Get in touch