TL;DR: Smart-i provides a solid set of very clever devices that comprise a sophisticated system that give that extra peace of mind and control of your home security you always wished you could have. There are higher-quality systems available, but for the money, you'd be hard-pushed to get one so feature-rich and configurable.
Faking it
Chatting to a friend of mine yesterday outside my house, he noticed the bullet-style CCTV camera on the wall that covers the front door and porch.
'I've got three of those at my workplace. They're not hooked up though – just for show,' he said.
'Too pricey, or too much hassle?' I asked.
'Both.'
I guess there is something to be said for the deterrent nature of the presence of a CCTV camera. It's not apparent from looking at it whether it works or not, so it will put off potential intruders. It's a lot like the dummy alarm boxes you can get that feature a flashing LED, but aren't connected to anything. They'd make you think twice about burgling the property. They do with me, anyway – I always go for the houses without them.
Big Brother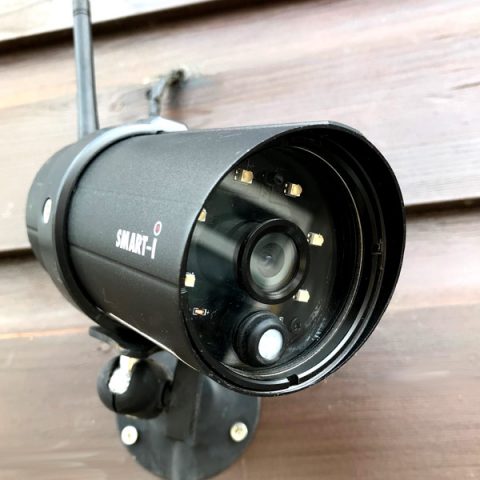 The camera on the front of my house does work, though – so does the siren, for that matter: they're part of a Smart-i SmartHome security bundle I installed a few weeks ago. It's been a good test of the set of products in practice, and my family and I are pretty happy with them.
Bundles of fun
The Smart-i range comes in a range of starter bundles to get you set up, but it's really flexible as it's a modular system and you can add individual devices to it as and when you require them.
The science bit
The whole system is based around the Smart-i SmartBox Gateway, essentially a dedicated wireless control box. It communicates with all the devices in the system using a frequency outside the range of standard WiFi that has a long range of up to 150m without obstructions. It also connects to your home broadband. The really smart bit is that once all the devices are added (which is easy), they can then be accessed, controlled and configured through your mobile phone, armed with a dedicated smartphone app. The app's not going to win any beauty pageants, but it's easy to use and gets the job done.
What you get
We opted to go for the largest bundle, the Smart-i SH160. It gets you up and running at a decent pace with home security. Included is the Gateway to get everything connected, plus:
– a solar-powered siren that keeps its batteries topped up with the power of the sun (well, daylight – this is Britain)
– an external 'bullet-style' WiFi CCTV camera with night-vision and motion sensor
– a door/window sensor
– indoor motion sensor
– two remote-controlled power sockets (eg. for lamps)
… and a key fob to quickly activate/deactivate the alarm system.
Getting started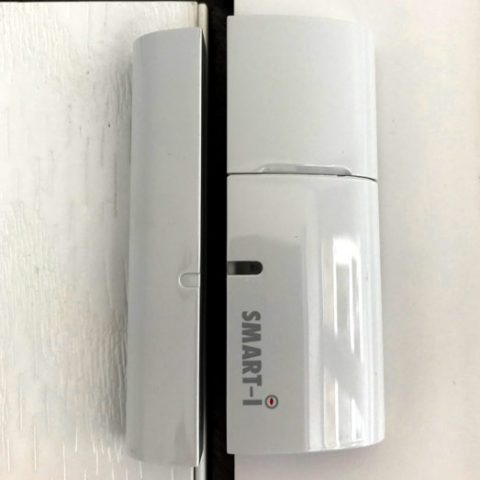 Installation was dead easy – all the main elements are wireless and battery-powered (and yes, batteries are included…), so removing the battery protector and using the sticky mounts was all that was needed to position the sensors. The cameras do require a power source, so a small hole in the wall was required for the outdoor camera to poke the DC cable through. While the ladder was out, we installed the siren box with a couple of screws. While doing the installation, I tinkered with the enclosure on the back to get the fixings aligned. Be warned, though: this resulted in a piercing blast of the alarm next to my face, proving simultaneously that the alarm did indeed work and that the two primal human fears, those of loud noises and falling, are not best tested at the top of a ladder.
It's a pretty comprehensive set-up, and it covers the main entrance to my home, first of all showing activity on the CCTV camera, sensing the front door opening. Then it detects the motion of anyone coming through the front door. All this is flagged as activity on the phone app, so even if the alarm isn't activated you have an idea of the comings and goings while you are away from home. If the alarm is activated, the siren will sound and I will get alerts on my phone.
No, Mr Soderbergh
The outdoor camera is reasonable quality – at 720p it's not feature-film quality (unlike your iPhone), but with a wide-angle lens and infra-red Night Vision it does a decent job of capturing video in all conditions, and it's good enough quality to have featured on primetime TV if they hadn't cancelled Crimewatch. It can also be bought separately and used independently of the Gateway by connecting directly to your WiFi. Which is handy if you don't need all the other devices in the bundle.
Everyone says I'm paranoid
The two remote-controlled power sockets have some lamps plugged into them, and they're timed to come on in the evening and automatically switch off later on. This is fine for the appearance of being at home (and you can vary the times for each day of the week or set them to 'Random'), but you can mix it up a bit and switch them on remotely using the app should you get a sudden attack of paranoia while out having a tear-jerking curry or stomach-churning film at the cinema. Alternatively, you could have them control, say, radios or garden lights (disclaimer: make sure they're protected from the elements with an appropriate weatherproof enclosure).
Right sophisticated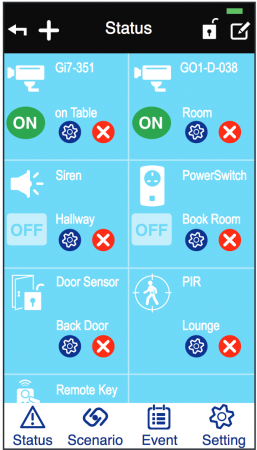 One of the benefits of the smartphone app for the system is its configurability. It is easy to set up all the devices and add them to the Gateway. Once in the system, you can see the status of all the connected devices and switch them on or off and view camera feeds and recordings (for recordings you need to add a microSD card, which you can get from most supermarkets for under £20 – cost is dependent on capacity and quality). You can arm or disarm the system remotely too – so if you've forgotten to set it as you left the house you can do it while you're eating that curry.
The system can also be configured into Zones and Scenarios. For example, you can arm the whole system, or just the sensors and cameras in a particular part of the house. Zones are useful if you want to set the alarm on the external sensors of the house (external doors and windows) but not the internal sensors, so you can move around the house at night but the boundaries of your home are secure.
You can also set up a Sequence Scenario. This allows Smart-i to react to certain situations in a way you specify. For example, say the camera on the driveway picks up movement. This can trigger a sequence in which the camera starts recording, and a lamp is turned on in one of the front rooms, whether or not the house is occupied. If, like me, you're really out to annoy your neighbours, you could have it turn on the siren too …
Petual motion
I think I mentioned that the system is modular, which is one of its best traits. Devices I have yet to add include indoor cameras (one of which tilts and rotates remotely, which would be a great way to scare our cats while we're out), a pet-aware motion sensor (again, good with the cats), a smoke detector, and water detector to alert you to flooding.
So – there you go. My little intro to Smart-i Smart Home security systems. We'll continue with our real-life trial and report back again in a few weeks. Let me know if you have any ideas for scaring the cats or annoying the neighbours with it. And if you have any questions about the systems available, give us a call.