Idency Launches The Anviz FacePass 7 User & Registration User Guide Video

Idency is pleased to launch our brand new video guide
The step-by-step video guide demonstrates the entire user & registration process on the Anviz FacePass 7 Facial Recognition and RFID terminal:
Signing in as Admin for the first time
How to begin registering a user
How to apply user ID's
How to register a users face, RFID Card or Tag and password
How to clock in or out using the device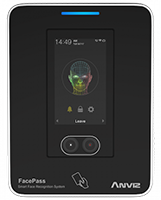 The Anviz FacePass 7 is a true breakthrough for biometrics. The powerful system delivers fast & consistent identification for Time & Attendance and Access Control management.
Take a look at the video below:
We Can Support You
For more information and to discuss your requirements, please contact us.