Biometric Key Cabinets
Fingerprint authentication cabinets for secure key access control.
---
Looking for a fleet management solution? Need to monitor equipment access?
Key cabinets are relied upon 24 hours a day in a variety of industries including automative, property & estates, retail, transport, entertainment venues, education, healthcare, financial services, and many more.

Biometric key cabinets give businesses a way to securely store keys and manage key usage and activity directly through key control management software. Through biometric authentication, these cabinets keep all keys secure and quickly accessible for authorised staff without the time-consuming hassle of manually checking out keys.
Electronic Cabinet
The electronic range of cabinets keep all keys secure and quickly accessible. The intelligent key cabinets can allow authorised users fast access to designated keys verified with quick and effective fingerprint biometric authentication. The cabinet storage size ranges for those needing to secure just 5 keys to those needing to secure 150. For orders and customisation, please contact us for pricing and requests.
Biometric Integration
The biometric integration with ievo fingerprint readers ensure unauthorised access to electronic cabinets by stolen PIN or swipe card are eliminated. The ievo Ultimate is a perfect access solution in any location for it's reliable efficiency, even in harsh conditions and tough fingerprints. To read more information on ievo Ultimate fingerprint reader, please take a look at our ievo Ultimate product listing.
Key Access Control Management Software
Quickly & simply audit key and equipment transactions using cloud-based Key Control Software.
Authorised users have control of all keys across sites, allowing assignment of keys from any location; the software can be used as a standalone or networked recording system, or in conjunction with the mechanical key systems.
Features of the software make it adaptable for many different industries, allowing customers to tailor the software to individual requirements.
Key Control Software is available on PC's, laptops, tablets and smartphones. Optional features include signature pad, fingerprint or barcode scanners.
Integration and hosting options mean that you can manage multiple systems at different locations through a single user interface, which gives the peace of mind that additional cabinets can be added if requirements change.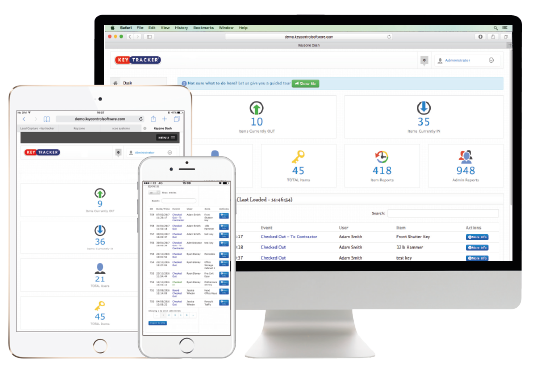 For pricing and more information on biometric key storage, management, and access control please contact us.