Malwarebytes October Cloud Update: Enhancements for Administrators

Malwarebytes schedule cloud platform update for 8:00PM EST / 5:00PM PST on October 18th 2018 with less than 3 hours of down time anticipated to complete.
This update includes enhanced administrators' visibility providing additional insight.
Customers will also benefit by seeing the exact behaviours and rule(s) which triggered a cloud sandbox detection.
One of the main updates includes Endpoint Status Icons which can be seen below: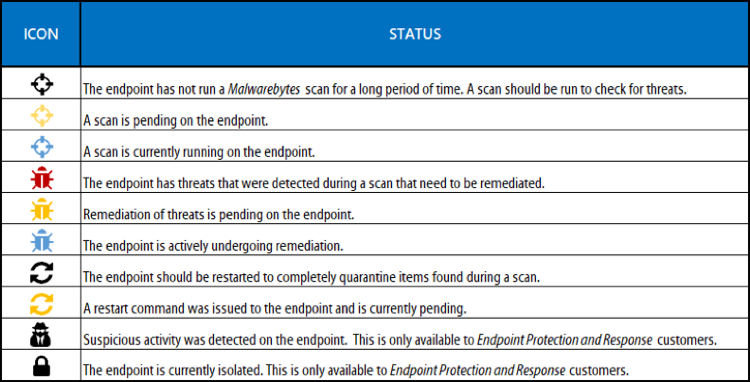 More information on update:
ALL MALWAREBYTES PRODUCTS
(Manage Endpoints page) – Endpoint Status Icons
(Suspicious Activity Details page) – Expanded display of set of rules triggered when making cloud sandbox detections.
Fixed Errors Include:
Added capability for end users to enable/disable debug logging from the tray icon using ctrl + right click, and via command line.
Not cleaning up all temp files in c:\Windows\Temp.
ENDPOINT PROTECTION AND RESPONSE ONLY
(Process Graph Details Pane) – Administrators able to click 'Activities' links to view specific file operation details including:
File Rename, File Write, Set Security, Registry Set Value, Net Connect Inbound, and Net Connect Outbound activities.
(Granular Endpoint Isolation) Supports Windows Server 2008 R2, Server 2012 R2, and Server 2016. Allowing remote isolation of servers for further investigation.
(Remove Endpoint Isolation Notice) – Specifies endpoint name.
BSOD with SamSam ransomware variant on Windows10x86
Fixed Errors Include:
Process Graph suspicious activities does not return Error 500 and other general improvements.
Fixed Yes button in the dialog box for Lock icon status indicator
MALWAREBYTES MacOS
(MacOS Endpoint Agent) – Supports Mojave 10.14
Fixed Errors Include:
Error appearing in logs: ERROR WebServiceStore: remove: request.guid=…
Endpoint Agent does not report update_package_version on fresh Endpoint Protection install
---

We Can Support You
For more information and to discuss your requirements, please contact us.