Setting up Notifications from your Nest Products
Setting up Notifications from your Nest Products
How do I set up notifications for my Nest products?
Notifications need to be set up separately for each of your Nest products. To receive notifications from a Nest product, it must be added to a Nest account and connected to Wi-Fi and the Internet. The type of notification that you'll get will depend on which product you have, and some notifications, such as smoke alerts from Nest Protect, can't be turned off.
Each of your Nest products can send you alerts to let you know when something in your home needs your attention. Whether it's push notifications to your phone, emails, or both, they'll try to alert you about important events, emergencies and technical problems. You can change notification settings for every Nest product in your home with the Nest app.
First, we'll show you how to access basic notification settings, and then we'll go into more advanced options and more detail for each Nest product and program.
Basic notification settings
There are two ways to access notification settings. The easiest way is to go to the main Notifications menu where you can set notifications for all of your Nest products. We've also kept the 'old' way of getting to the notification settings for each individual product. Here's how to use each way:
Using the Notifications menu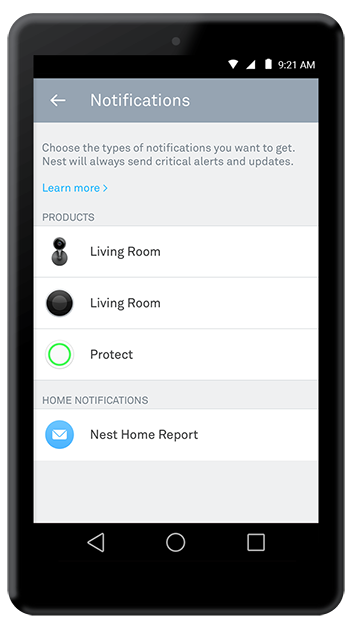 Tap the Settings icon  in the top right-hand corner of the Nest app home screen.
Select Notifications.
Choose the Nest product that you want to change notifications for, or select options for Nest Home Report. Each item in the list will have different notification options, which are summarised below.
For more information and general guidance on our products & services, please contact us.
---
Require further support?
Search all Knowledgebase articles
Send a Support Request to The Idency Support Team