USB Flash Drives
---
Ironkey offer encrypted USB Flash and External Hard Drives. Ideal for organisations who store and transport confidential data!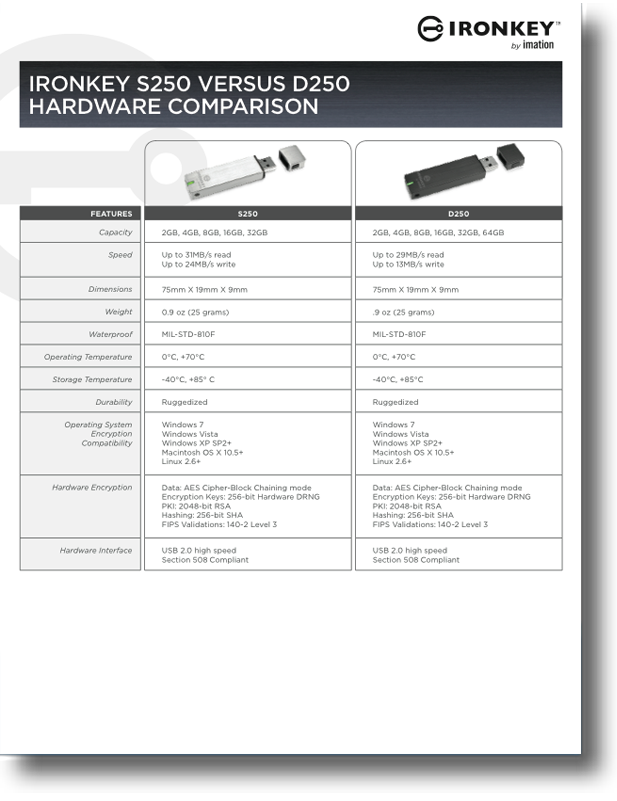 Here are just some of the main benefits of Ironkey encrypted drives:
Hardware encryption ensures data stays safe, always
Manage and protect your online passwords
Just plug in and go
Secure, private web surfing
Take your portable applications with you
Physically hardened and built to last
CHOOSE THE MODEL THAT FITS YOUR NEEDS
Two drive models allow you to deploy the right combination of performance, longevity and value to fit your mobile security needs.
High-performance and extra long-lasting IronKey S250 drives are built to stand up to continuous use on the road. Dual-channel SLC flash memory delivers exceptional performance and longevity
Ironkey D250 drives balance performance and value for users with average data access needs. Same great security as the S250, with dual-channel mlc flash memory for reliable read/write performance
We have the following products in stock and available to order online now:
For more information on IronKey Encrypted USB Drives please contact us.